THE MOST COMPLETE BRAIN SUPPLEMENT ON THE PLANET:
Brain Fuel Plus: Capsules 
Brain Bears: All natural sugar free gummy bears for children and adults
It doesn't matter who you are, Brain Fuel is made especially for you:
Parents: Have more energy, less stress/anxiety and get the most out of each day!
Professionals: Have more focus and clarity, while being able to cope with the stress of work and deadlines.
Weight Challenged: Overcome the stress and anxiety that comes with losing weight. Reduce cortisol, carb cravings.
Baby Boomers and Aging brains: Helps prevent mental decline and keeps your brain functioning at a high level.
Students: More focus and concentration to get more out of each study session.
Athletes: Muscle memory, focus, strength and performance all can improve with sharper mind and focus.
Take me directly to the website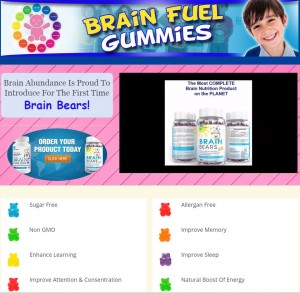 I want more information on Brain Bears